Hello. I wanted to share the way to break the game with you. The guide is valid if you play vs AI. Human opponent wont fall for it (probably).
I'm not the one who invented the method - all the credit goes to xDjamakx on Steam, who created the guide. He asked me to post a bug report, but assuming things i will describe here are not bugs, just limitations of the system, i decided to post them in Feedback forum.
Lets get started. The method is called "Powershifting" (c) xDjamakx. It utilizes three quite simple ideas:
1. Some of your warriors are much more powerful, than the others
2. Your warriors can "give away" their red/blue points to other warriors.
3. Game adjusts the enemy warband according to your rating.
I will base this description on Sisters of Sigmar, because the whole method can be executed extremely easy wtih them
First, we utilize the 3rd idea. We use lvl 10 leader, lvl 10 Purifier, lvl 10 Impressive and 5 lvl 1 henchmen. Why? So we will fight lvl 4-5 enemies. Not only we use lvl 1 henchmen, we also gear up everyone, but the Impressive, in clothing + dagger, all whites. This will keep the rating to the minimum. We use top gear on Impressive only. Obviously, due to huge difference in base stats the same mace in the hands of Impressive and Henchman will differ greatly in its killing power. And thus we utilize the third idea.
Lastly we utilize the 2nd idea. We move our impressive into the enemy ranks and strat pumping him up with points using Leader and Purifier. Skills Battle Plan, Order and Sigmars Second Breath spell help here a lot. In the end we have a killing machine, which can counterattack non-stop 11-12 times per turn. The fact, that Impressives don't tire allows us to use Dual Wield without consequences (2h weapons -15% debuff kinda screwes us up). And the lvl 4-5 enemies wont be able to touch her due to huge to hit penalty.
On top of that several more mechanics start to break, Fatality being one of them: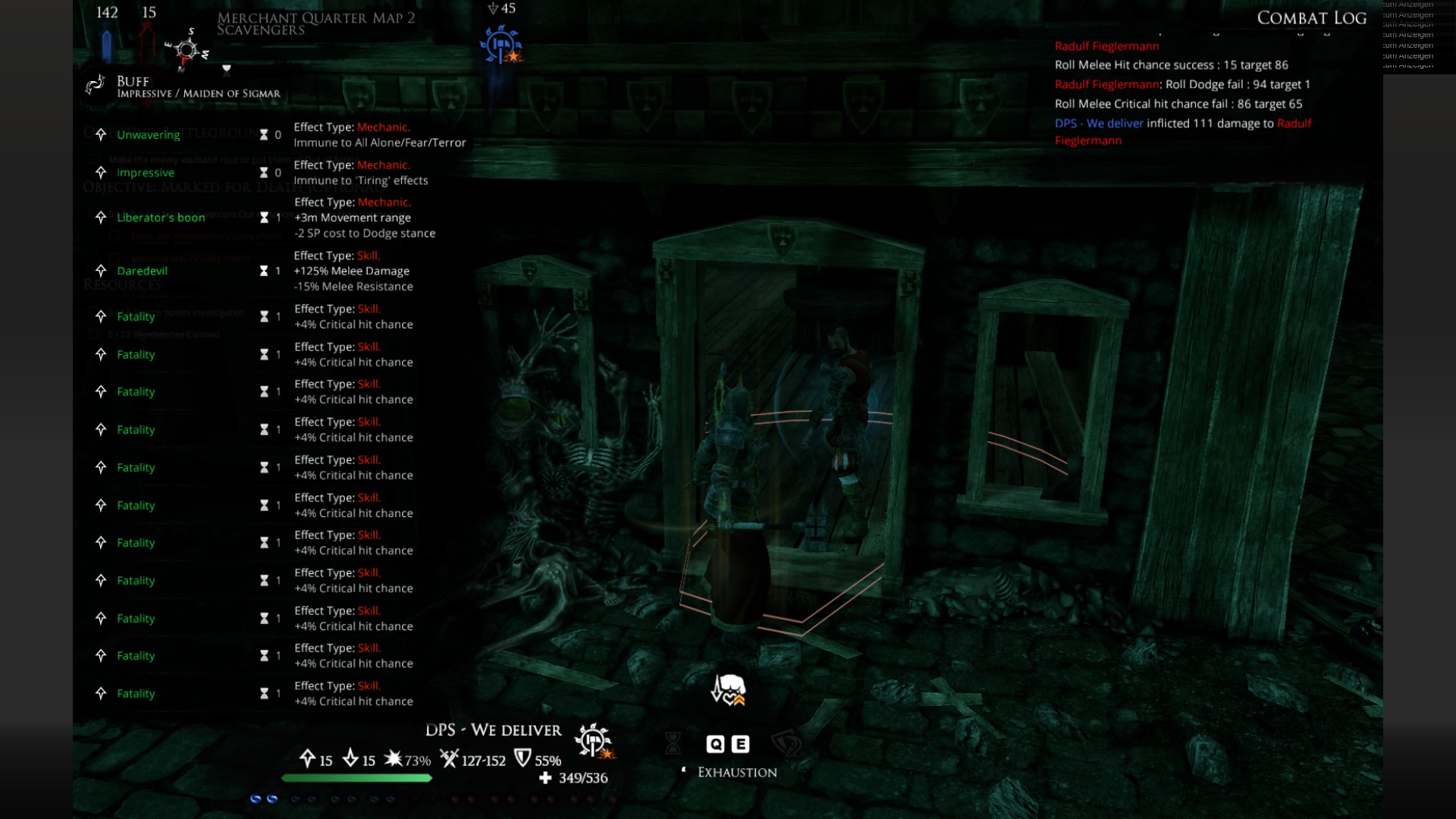 You can count the critchance bonus yourself.
Guide itself and duiscussions are here:
https://steamcommunity.com/sharedfiles/ ... =619423505
This can be done with any other warband, just use meditation to pump up your blue pills, and battle plan away.
Only solution i can think of is removing all powershifting spells or adding cooldowns on them.
Have fun.